The Navy Brass Septet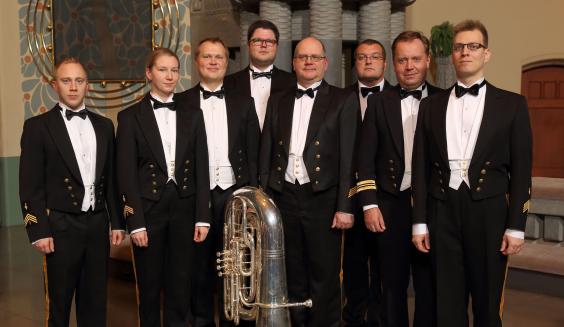 The Navy Brass Septet was established in the autumn of 2013 thanks to the military band reform which finally enabled the forming of three separate smaller ensembles within the Navy Band.
The Navy Brass Septet is a traditional Finnish brass septet consisting only of cornet instruments, i.e. valved horns of varying sizes derived from the traditional post horn. These instruments are characterised by a conical bore, soft yet crisp sound and technical agility.
The brass septet is a Finnish invention, which was developed in the late 19th century. The septet met the needs of military music and, later on, popular music. Thanks to the easily movable septets that are suited to outdoor playing, arrangements of the latest musical novelties, such as operetta hits and ballroom dances, spread everywhere all the way to the most remote corners of the country. Finnish composers, such as Jean Sibelius, Armas Järnefelt, Toivo Kuula, Leevi Madetoja and Aarre Merikanto, have composed symphonic pieces specifically for a brass septet. The Navy Brass Septet strives to nurture the traditional Finnish brass music culture alongside holding conventional military performances.
Musicians
Teuvo Ruhanen, Eb cornet
Tommi Niinisalo, 1st Bb cornet
Lauri Karhi, 2nd Bb cornet
Sanna-Mari Rissanen, alto horn
Oke Kärkkäinen, tenor horn
Pekka Laurikka, baritone horn
Matti Laiho, tuba (leader of the septet)
Aki Riihimäki, percussion