The Navy Band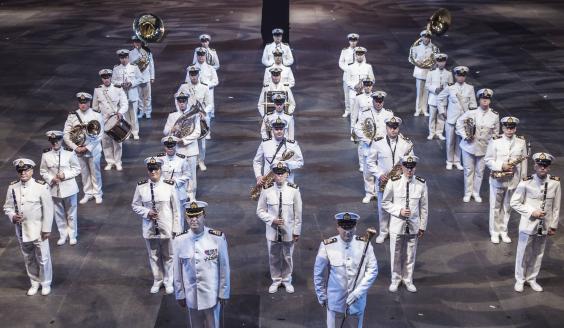 The Navy Band is the Finnish Navy's official representative band based in Turku.
The 32-piece Navy Band is navigated by the Senior Conductor Petri Junna and Conductor Jarkko Aaltonen. In addition to the concert ensemble, diversity to the band's performances are provided by a wind quintet, brass quintet and brass septet. Conscript musicians are also a visible part of the band's performances in various maritime environments. Read more from our concert calendar.
Established in 1919, the Navy Band gained new premises that do the traditional orchestra justice when it moved to a location by Turku Castle on the banks of the Aurajoki River in 2013. The very same building is also home to the Turku Conservatory. Increased cooperation with the school of music has taken the form of soloist concerts and traineeships for students.
In addition to performing in the concert hall Sigyn in the band's own building, the navy musicians travel widely for concerts and performances in the regions of Southwest Finland, Satakunta and Ostrobothnia.
Alongside the diverse and frequent concert schedule, the band primarily performs at Navy ceremonies and celebrations.
Every summer, once the President of the Republic of Finland has moved to his summer home of Kultaranta in Naantali, the band also begins to play at state events and hold summer concerts in the beautiful municipalities of the archipelago.