The Defence Forces' music playing business card
Press release 13.3.2020
Due to situation of the corona virus infection, all the Military Music events and concert tours are cancelled until the end of May. We look into the possibilities for rescheduling concerts. The tickets will be refunded.
All the events during summer, such as The Finnish Defence Forces Summer Tour 2020 and Hamina Tattoo, will be held as planned based on current information. We will keep our audience informed about the situation during the spring.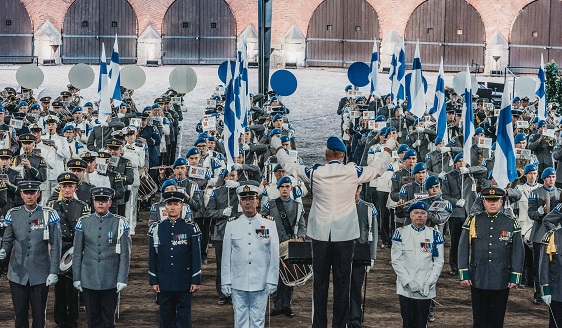 For more than 200 years military music has been part of Finnish cultural life. All six military bands uphold traditions and will of defence as well as work abroad as exporters of Finnish culture and share knowledge about conscription in Finland.
The military bands hold concerts throughout Finland and also perform abroad. Overall, the bands have more than 1,000 performances each year. The performances vary from traditional guard parades, visually impressive international marching festivals and concerts of exquisite symphonic wind music to skillful performances of chamber music and entertaining popular music shows.
Warmly welcome to attend military music events!

Military Music
Finnish Military Music 200 years