Conductors
Senior conductor
Lieutenant commander (Mus.) Petri Junna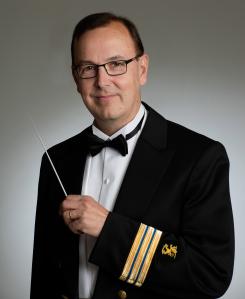 Petri Junna, who assumed the duties of Senior Conductor of the Navy Band in September 2015, completed his conductor's studies in the Military Music School and the Sibelius Academy, from which he graduated in 2000. He has been taught by Kalervo Kulmala, Pertti Pekkanen, Atso Almila and Jorma Panula. Over the course of his career, Junna has served as the conductor and senior conductor of the Conscript Band of the Finnish Defence Forces, the Pohja Military Band, the Karjala Military Band and the Dragoon Band. In addition to his own orchestras he has also conducted other military bands, such as the Oulu Symphony Orchestra and the Joensuu City Orchestra. In addition to his primary work, Junna has trained numerous Finnish wind orchestras and served as a conductor and teacher at a variety of music camps and events. Petri Junna is also known as an arranger of wind music. Among a multitude of other pieces, he has arranged Einar Englund's orchestral series The White Reindeer and Mozart's Requiem for soloists, a choir and a wind orchestra. Before his work as a conductor, he served as a trombonist in the Uusimaa Military Band, the Guards Band and the Lohja City Orchestra.
Conductor
Lieutenant commander (Mus.) Jarkko Aaltonen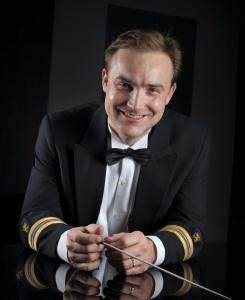 Jarkko Aaltonen began his musical studies playing church organ at the Varsinais-Suomi Music School at age 6. He completed his military band training between 1991 and 1995 in the Military Music School in the Häme regiment. Aaltonen studied the clarinet at the Päijät-Häme Conservatory and TUAS Arts Academy. He served as the Navy Band's concertmaster from 2000 to 2005. Jarkko Aaltonen studied wind orchestra conducting at the Sibelius Academy, graduating with a Master's degree in 2010.
Aaltonen served as the artistic director of the Helsinki Symphonic Winds and the conductor of the Helsinki Saxophone Orchestra. In 2011 he began working as chief of the Savo Military Band, where he explored big band, string orchestra and symphonic wind orchestra concerts. He served as the chief of the Conscript Band of the Finnish Defence Forces from 2013 until September 2015, when he became the conductor of the Navy Band.